Have Discomfort or Not Feeling Quite Right? You or Your Child Are Not Alone.
Join 100s of Local Enfield Residents in Discovering the Benefits of Cranial Osteopathy!
Perfect for all ages, from newborns to those celebrating a century!
Delicately gentle and yet highly efffective.
Addresses many issues, such as headaches, musculoskeletal problems, stress, and infant-related concerns.

I would highly recommend this company, my 9wk old baby has never seemed comfortable/content, we decided to try a cranial osteopath and after seeing the reviews we went with GD Osteopathy.

Even just after 1 session our baby has been noticeably more content and smiling! We are over the moon and looking forward to her next session…

Talia Cornwall: October 8, 2023.
What is Cranial Osteopathy?
particularly useful for the treatment of babies and children. Cranial osteopaths apply a very gentle and subtle treatment, which aims to promote the release of stresses and tensions throughout the body.
Cranial Osteopathy works with what is known as the involuntary mechanism. The osteopath helps to restore a calming balance to the bodies natural biorhythms by the use of gentle massage and pressure to the cranial bones.
Although gentle, cranial osteopathy can be very effective and may be used in a wide range of conditions for people of all ages.
More information about cranial osteopathy can be found at the Sutherland Cranial Osteopathy website.
What is the Involuntary Motion?
It is present in all tissues throughout the body. This mechanism is very subtle and can take many years of training before an osteopath becomes adept at palpating it.
This motion was first discovered by Dr. William Sutherland in the early 1900's and was confirmed in a number of scientific studies in the 1960's and '1970's. Stresses and tensions within the body can disrupt the involuntary mechanism .
Accumulation of stress in the body.
Over time we all experience physical or emotional stress, as a result our tissues tend to get tight. Sometimes our bodies are able to self manage and reduce this tension, while sometimes the tensions may be held in the body and can restrict its movement.
As time goes by, the body may find it more and more difficult to cope with accumulated stresses and eventually symptoms may develop.
What can cranial osteopaths treat?
Cranial osteopathy aims to be holistic and to treat the whole person not just a symptom. As such a wide range of situations may benefit from treatment.
As previously mentioned, the reduction of stresses and tensions are a main focus.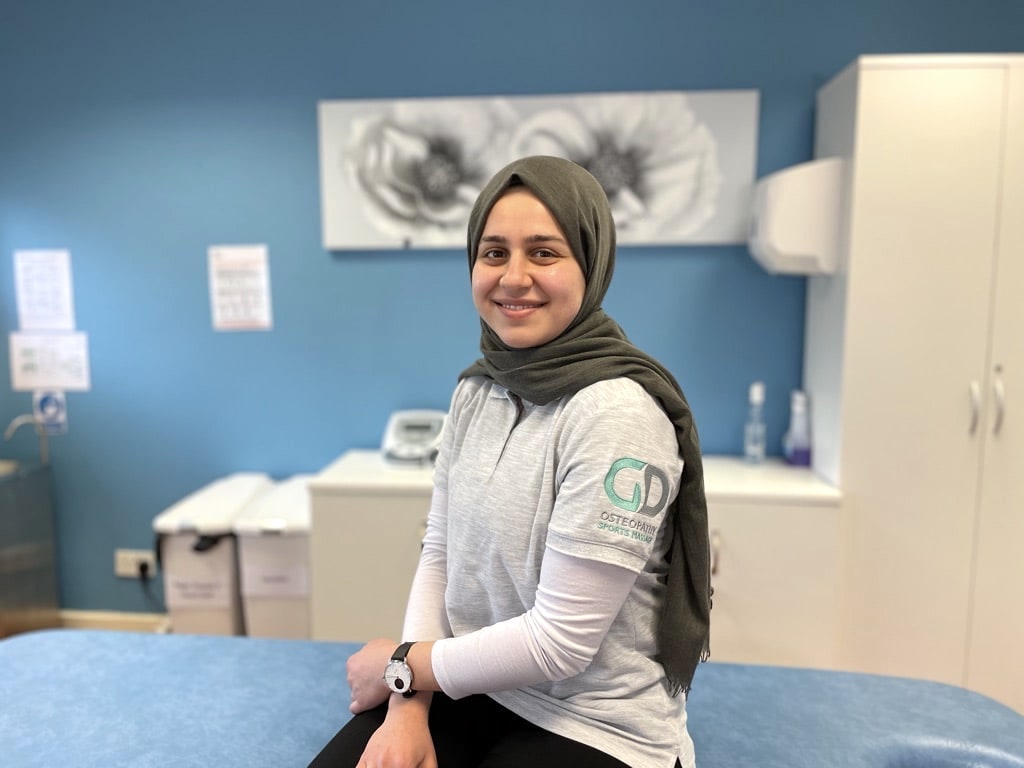 In a research study into the effects of cranial osteopathic treatment on babies, some parents perceived the following changes in their children:
improved sleep
reduced colicky crying
increased happy spells
less unsettled
less irritable behaviour
Introducing the incredible benefits of the Enfield cranial osteopath
A gentle and transformative therapy that can enhance your well-being in remarkable ways!
Cranial osteopathy is a specialised form of osteopathic treatment that focuses on the subtle movements and rhythms of your skull, spine, and other structures in your body. By using gentle, precise touch, cranial osteopaths can identify and address imbalances or restrictions that may be affecting your overall health.
Here are some compelling reasons to consider our Enfield cranial osteopath:
Holistic healing
Cranial osteopathy views your body as a connected system, where imbalances in one area can affect others. By restoring harmony and balance to your cranial and spinal structures, it supports your body's innate ability to heal itself, promoting overall wellness.
Gentle and non-invasive
Unlike some treatments, cranial osteopathy utilizes gentle touch and subtle adjustments, making it suitable for people of all ages, from infants to seniors. There are no forceful manipulations involved, making it a safe and comfortable therapy.
Broad range of benefits
Cranial osteopathy can address a wide range of conditions and symptoms, including headaches, migraines, sinus congestion, stress-related disorders, sleep problems, and more. By targeting the source of the problem and promoting proper function, it aims to provide relief and improve your quality of life.
Individualized approach
Cranial osteopaths assess each person's unique needs and concerns, tailoring the treatment to address their specific imbalances. This personalized approach ensures that your treatment is focused on your individual needs, maximizing the effectiveness of the therapy.
If you're seeking a gentle and holistic approach to healing that can address a variety of concerns, cranial osteopathy may be the answer you've been searching for. Experience the profound benefits of this transformative therapy and embark on a journey towards optimal health and vitality. Embrace the gentle power of cranial osteopathy and unlock your body's natural healing potential today!
Contact us.
We'd love to hear from you.
GD Osteopathy & Sports Massage
61A Southbury Road, Enfield, EN11PJ.
Phone: 0800 612 6212